Upcoming Events
RFS Fundraiser – Australia Day Weekend
Glenworth Valley is hosting a RFS Fundraiser – Saturday 25th January.
Enjoy a huge slip 'n' slide (ages 4+), Children's wet zone (water pistols, water balloons, sprinklers), musician, mega-prize raffle, Australia Day Food & Beverages…and who can resist a lamington eating competition? Don't miss other family fun activities during the day, such as lead pony rides, quad biking and kayaking.
Entry is free – and a $10 donation (per person) gives you a wristband for unlimited rides on the slip 'n' slide. All profits will be donated to NSW RFS. We'll also collecting your letters of appreciation and kids drawings to pass on to local brigades.
Support our Firies by registering your interest, and don't forget to add Saturday 25th January 4-7pm to your diaries.  Join the facebook event

Glamping Village
We are once again partnering with our friends at Simple Pleasures to have a Glamping Village at Glenworth Valley from the 20 December 2019 until the 2 February 2020.
Simple Pleasures will be offering some of their beautifully appointed glamping tents, set up in an exclusive area in Glenworth Valley.   Each tent comes fitted with a Queen bed as standard, and they can add up to an additional 3 single beds to each tent.
To book in for this great experience click here.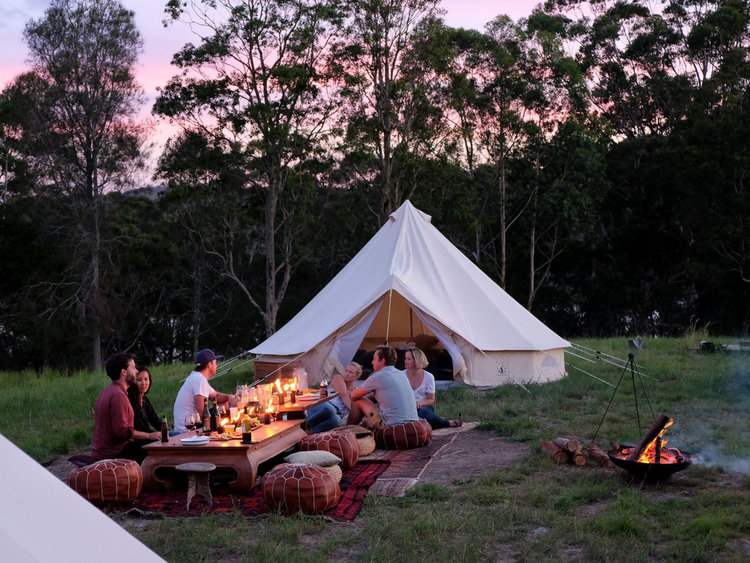 Axe Throwing
21st & 22nd December, 28th & 29th December 2019 (or by private arrangement)
2020 dates will be announced shortly!
Experience Glenworth Valley's newest thrill…Axe Throwing! Click here to book a place on the next tournament (no experience necessary).
18 January, 15 February, 14 March, 18 April, 16 May, 20 June 2020
Join us on our popular Wine & Seafood Kayak Tour. This is one experience for the bucket list! Click here for more.
15 February, 22 February, 21 March, 28 March, 9 May, 29 August, 12 September, 24 October and 14 November 2020
Join us on our popular Cattle Drive Ride. This is one experience for the bucket list! Click here for more.
16 February, 23 February, 22 March, 29 March, 10 May, 21 June, 30 August, 13 September, 25 October and 15 November 2020
The popular Gourmet Picnic Ride is a truly unique horse riding experience. Indulge in some great food plus wine after a great day of riding. Click here for more.
Saturday 1 & Sunday 2 August 2020
You're invited to join us for family fun, activities and entertainment at Glenworth Valley's Horses Birthday Party & Family Festival. Due to huge demand, the Horses Birthday Festival is back again for 2020 to be held over two big days. The Festival is a great day out for young and old, receiving rave reviews from parents and kids alike. Every Australian horses has a birthday on 1st August. so don't miss the year's BIGGEST birthday party! Entry includes lots of free family entertainment – see horses birthday website for more.