Refresh and reconnect with family and friends in a marvelous day horse riding and picnicking among Glenworth Valley's wilderness.
With the assistance of friendly guides, lean back and relax to the gentle rhythm of your horse as you discover the joy of riding at Australia's favourite destination.
Before pulling up to a freshly prepared picnic lunch and sharing a delicious shared meal under the shade of swaying gum trees.
You'll finish the day back at Glenworth Valley's homestead with an indulgent cheese and wine tasting – where you'll be filled with stories to share from your memorable morning in the saddle.
Catering to all riding abilities, this tour is fun for first time novices through to experienced equestrians.
Tour spaces are strictly limited – and usually sell out weeks in advance.
Secure your space today to be a part of the Cattle Drive Ride in 2023.

Just 20 minutes from Gosford & Hornsby, Glenworth Valley is right on your doorstep.
Perfect for day trips and family getaways alongside corporate groups, school groups and more.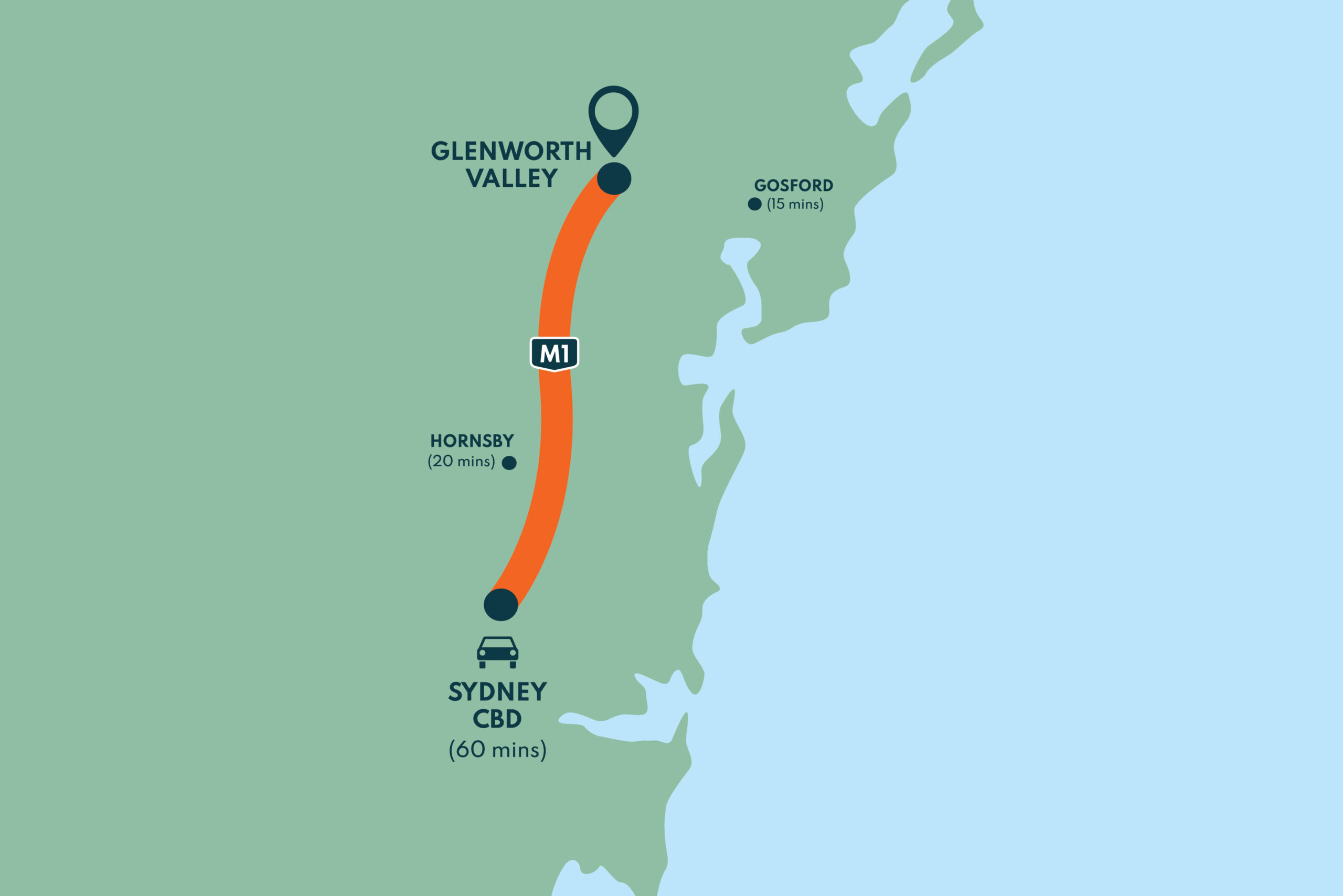 from beginner to advanced
all riding abilities welcome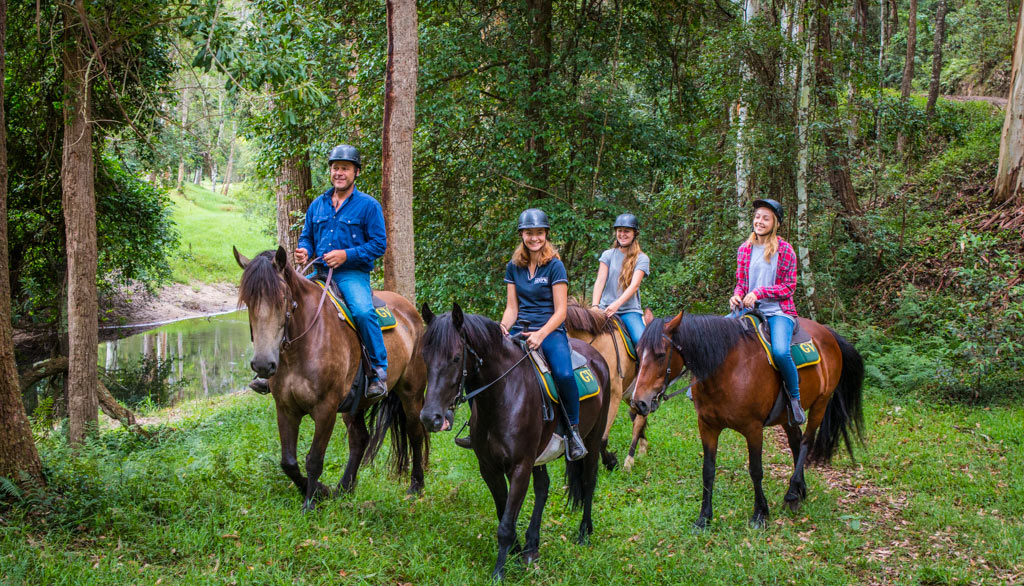 Whether you're a first time, novice or returning rider that is building up skills and confidence.
Or a seasoned rider that is looking for a novel and new experience.
Moving at a relaxed pace, Glenworth Valley's Gourmet Picnic Ride is open to all abilities.
There is no better guide for a horse riding experience than Glenworth Valley's cherished Gourmet Picnic specialist Isabel.
Starting to ride at the ripe young age of 5, Isabel hasn't left the saddle since – and has been living out her Jillaroo days teaching folk how to ride (and picnic) for the past 8 years.
In need of assistance, or would simply love a country yarn? Just ask Isabel, she's always ready to help.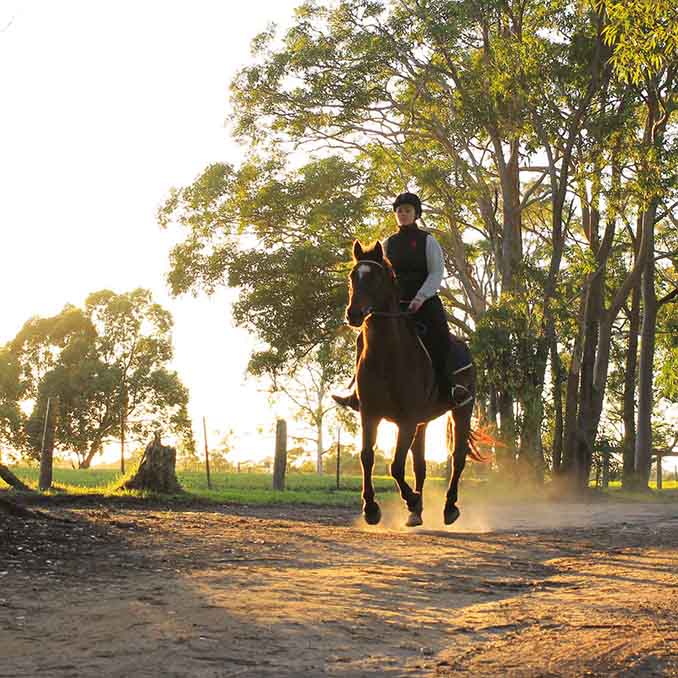 Ages: 7 years +
Weight limit: 100kg
Experience: Beginner to advanced riders
Type: Guided tour
Price: From $175pp* *Higher rates apply on public holiday long weekends
Includes: Horse, experienced guide, lunch, wine & cheese tasting
Extras: Helmets are compulsory for all riders. Helmets can be hired for an additional $7 fee
Available: Selected Saturday afternoons
Start time: 1pm
Duration: Approx 3.5 hours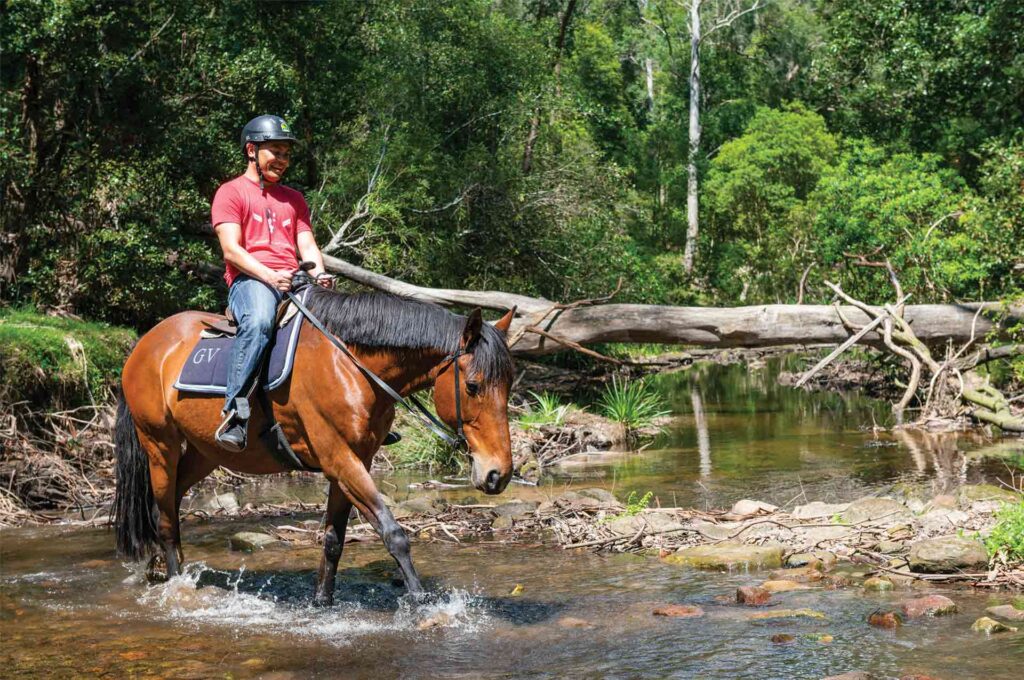 Australia's most cherished wilderness experience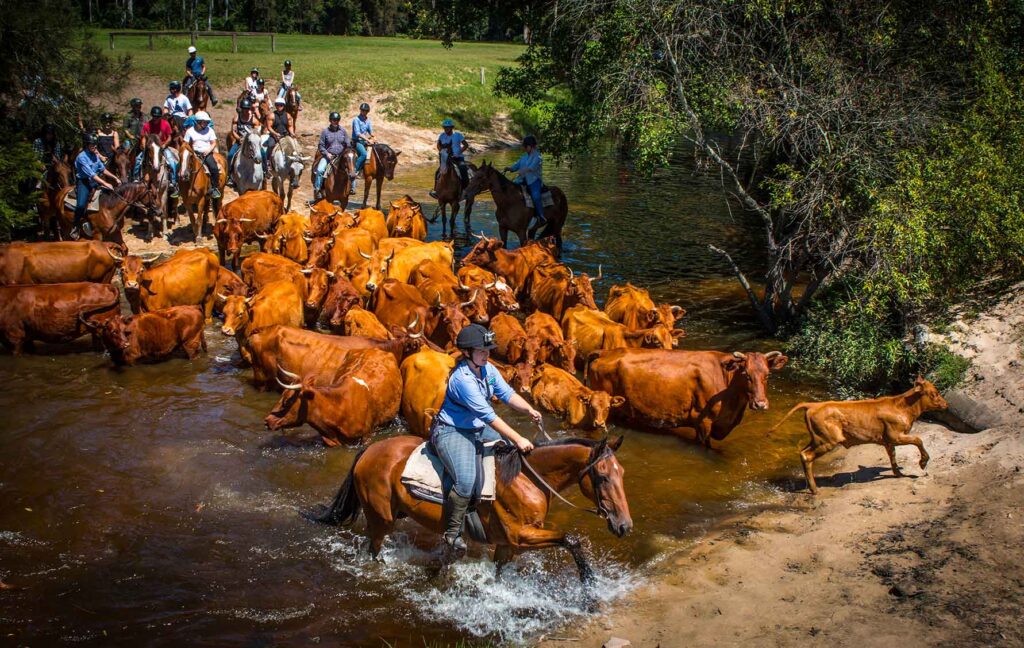 An iconic Australian adventure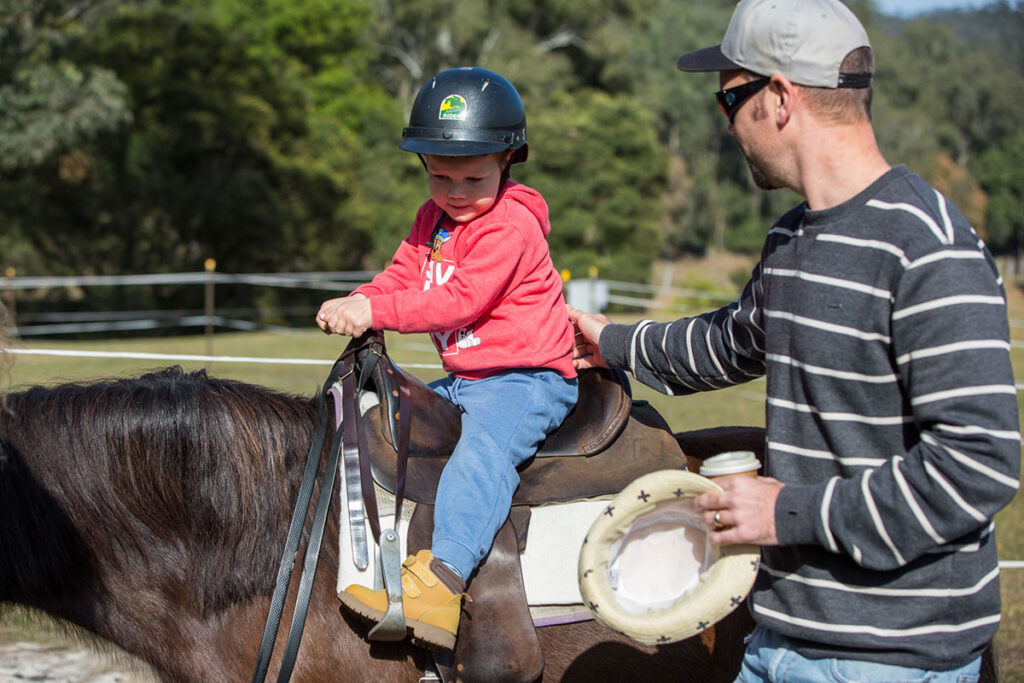 For little ones aged 3-12 years
corporate events & parties
Need to bring your team together with a unique experience they'll remember forever?
Treat your group to Glenworth Valley's Gourmet Picnic Ride – and watch them refresh and reconnect as they unwind on a spectacular adventure.
Plus with catering formal or casual as your prefer, a spectacular events centre and luxury accommodation, you'll wind down into an afternoon or evening in complete comfort.
Get in touch to arrange your dream event today.
where can I ride a horse in sydney?
Horse riding is permissible only in key areas, with most wilderness areas and national parks having strict bans on horse access. Although horse riding is best enjoyed in nature, there are only a handful of locations where a true trail riding experience can be discovered.
With over 30km of wilderness routes and guided tours from professional riders, it's no wonder Glenworth Valley is the region's most popular horse riding experience.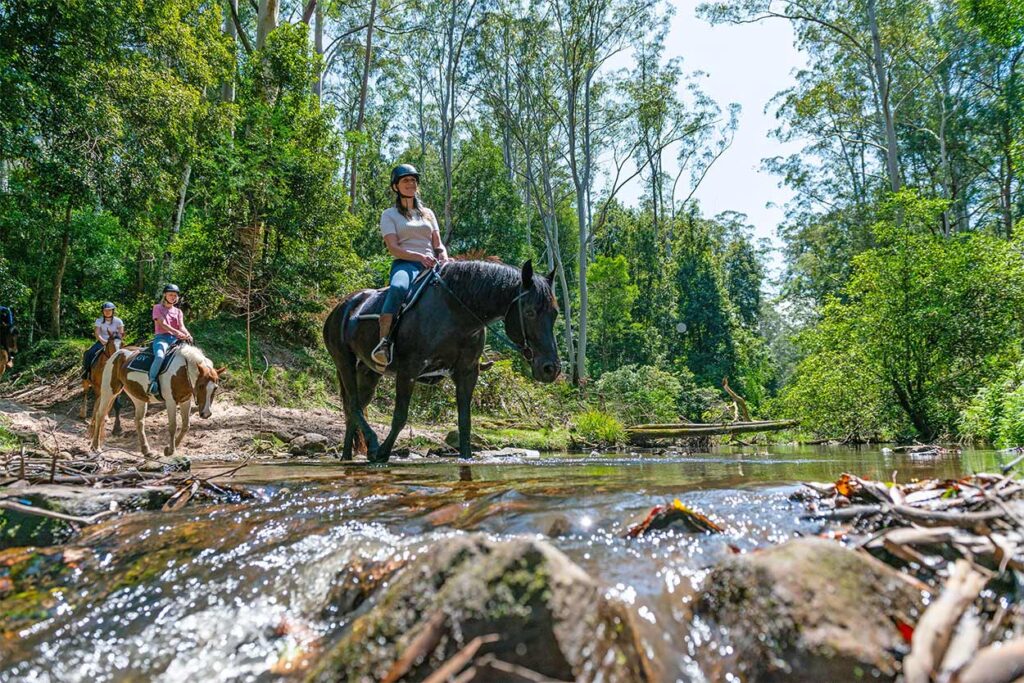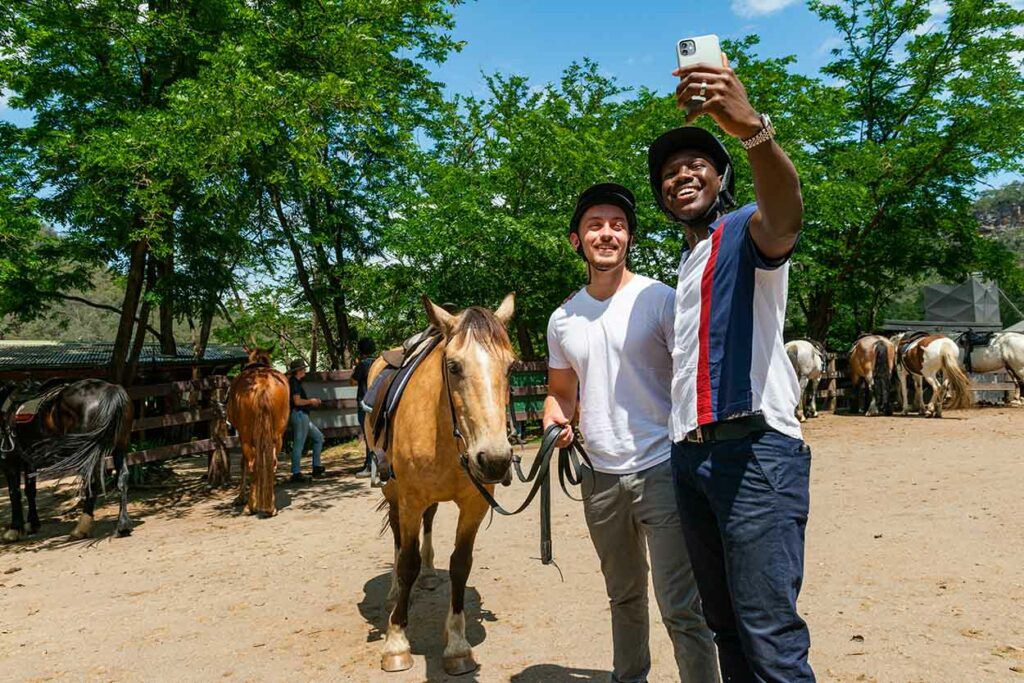 If the thought of horse riding is making you nervous, don't worry – it's perfectly natural and something that professional guides are trained to help with.
Learning at the hands of instructors takes all the nerves out of your first time. Sit back and relax with friendly tips guiding your technique, letting you tune in to the magic of riding with a unique connection to your horse.
A trail ride with Glenworth Valley's friendly guides will have you wondering what was ever holding you back.
what to wear when horse riding
Long pants to cover your legs makes horse riding all the more comfortable – jeans or jodhpurs are perfect. And covered shoes likes boots or sneakers are helpful for a little extra grip for your feet. If you're riding through Australia's beautiful Summer sun, a light, long sleeve shirt can also prevent sunburn. 
Boots, coveralls and helmets are all available when riding at Glenworth Valley to give you the true horse riding experience.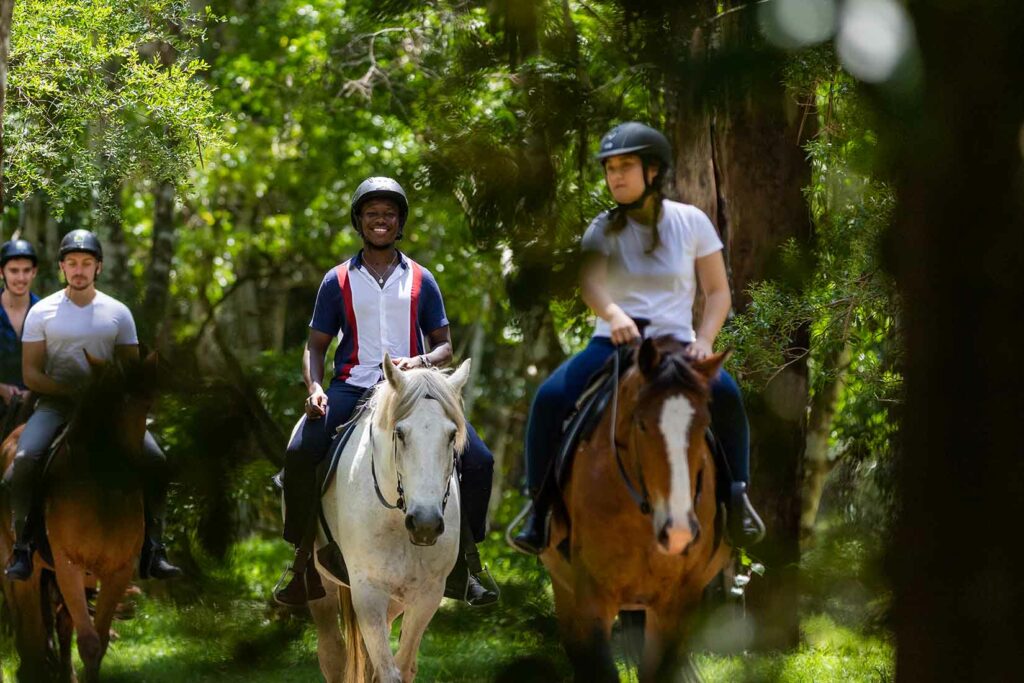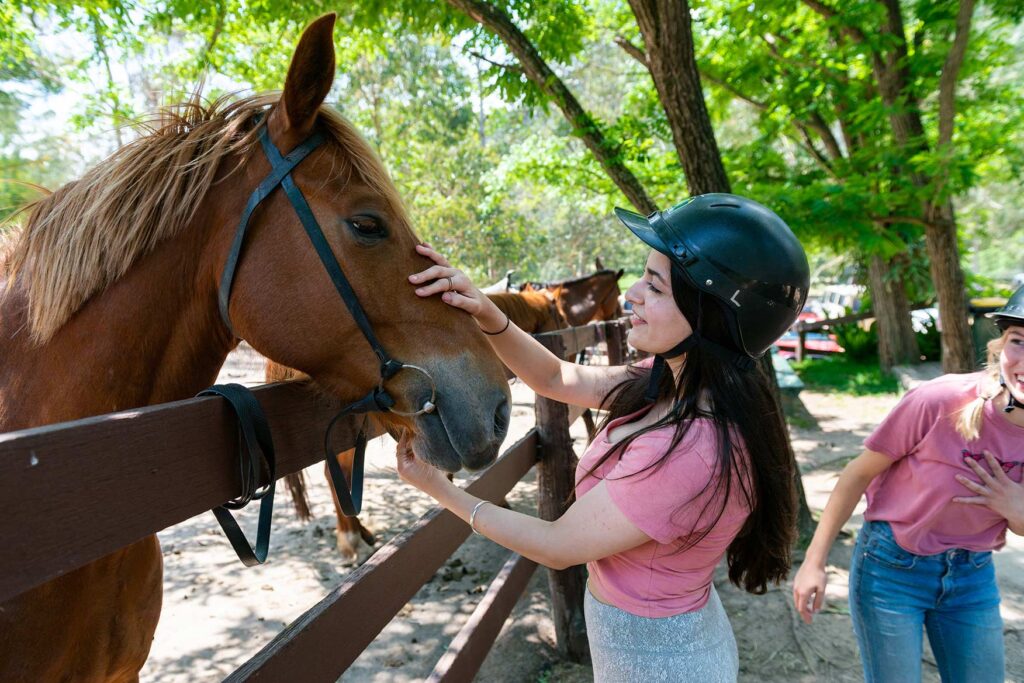 where can I learn to ride a horse?
When looking for horse riding schools or instructors, it's important to look for accreditation by the nation horse riding association – guaranteeing professional advice, safety and awesome experiences.
Accredited since 1970, Glenworth Valley holds the highest standards of professionalism in its horse riding tours and lessons and has helped thousands of keen riders.