Discover a hidden, unspoiled part of Australia.
Idle though natural rainforests and native bushland.
As the stresses of everyday life melt away.
Feel the breeze and splash through cool, refreshing creeks.
Relax to the soundtrack of bird chirps and clippity clops.
Sit back and enjoy Australia's favorite horse riding tour.
Just 20 minutes from Gosford & Hornsby, Glenworth Valley is right on your doorstep.
Perfect for day trips and family getaways alongside corporate groups, school groups and more.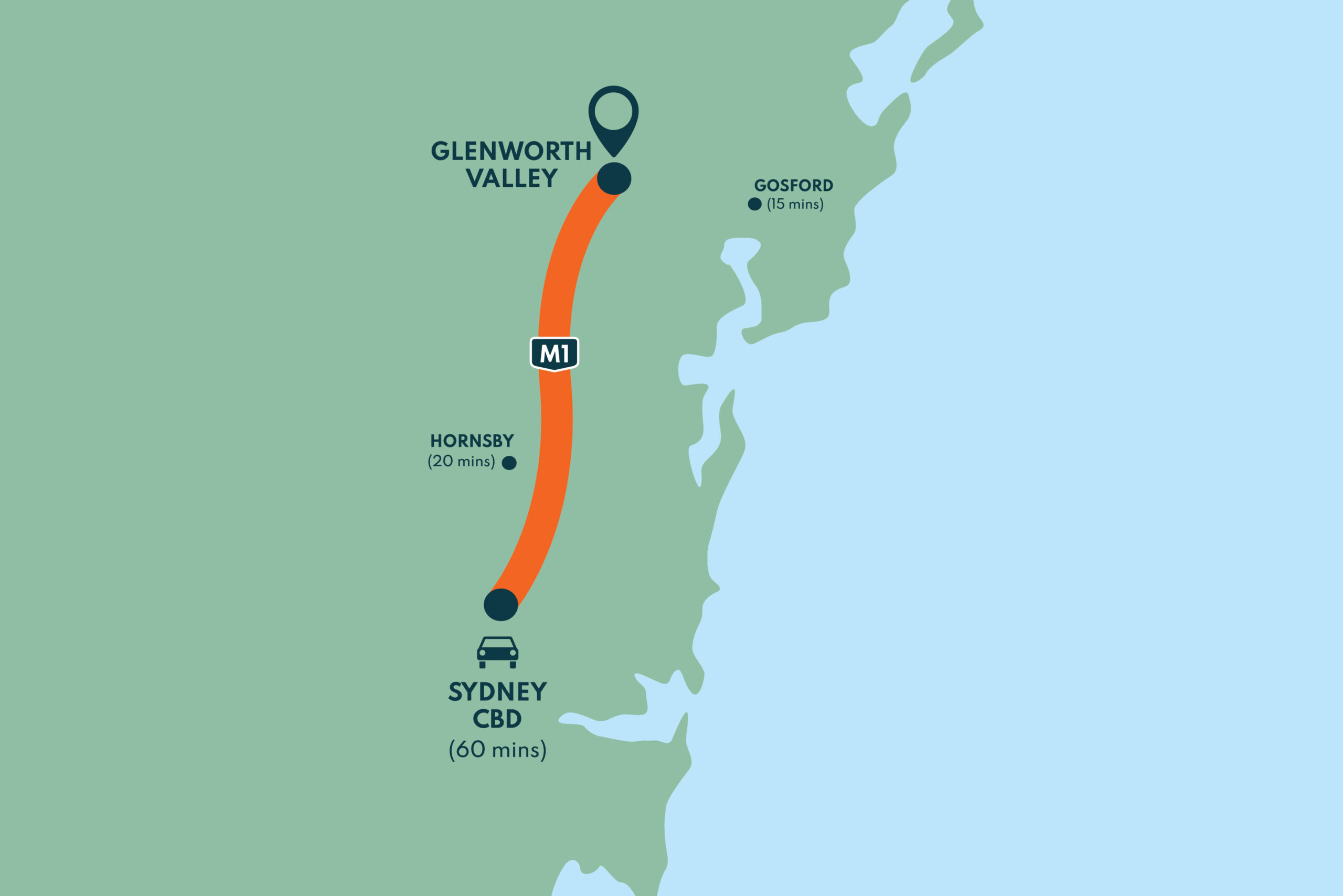 As you'll hear from every experienced rider, finding the right horse that matches your size and level is an essential step in having a safe and memorable riding experience.
Glenworth Valley hand selects only the most experienced horses with years of trail riding practice to create the perfect introduction for beginner, novice and first-time riders.
Needing some support, or would simply love a country story?
With expert tips and tales built up from a lifetime in the saddle, there is no better guide to an Australian horse riding adventure than Glenworth Valley's helpful and friendly staff.
From mounting your horse to taking your first steps, they're there to assist every step of the way.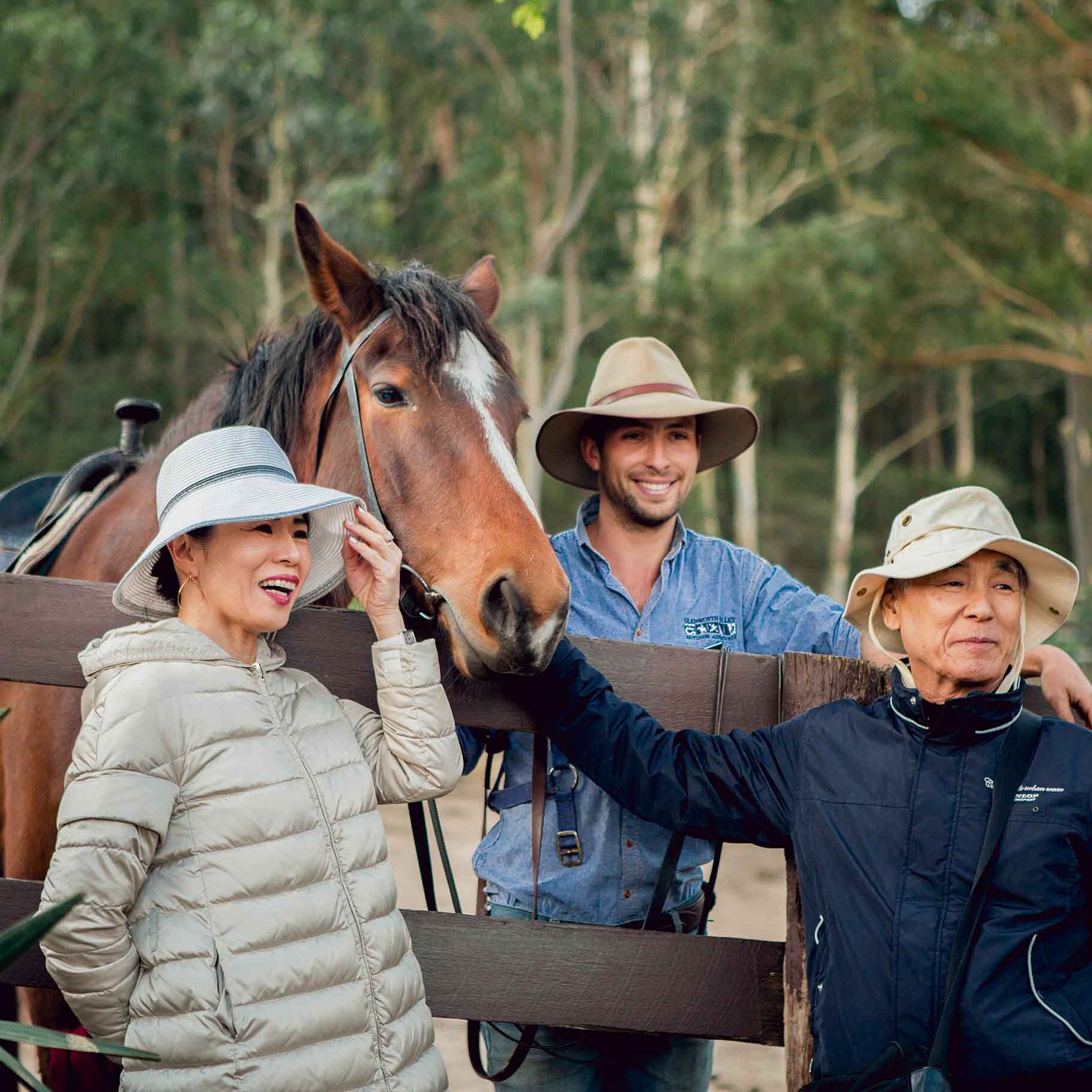 bringing horse riding to the region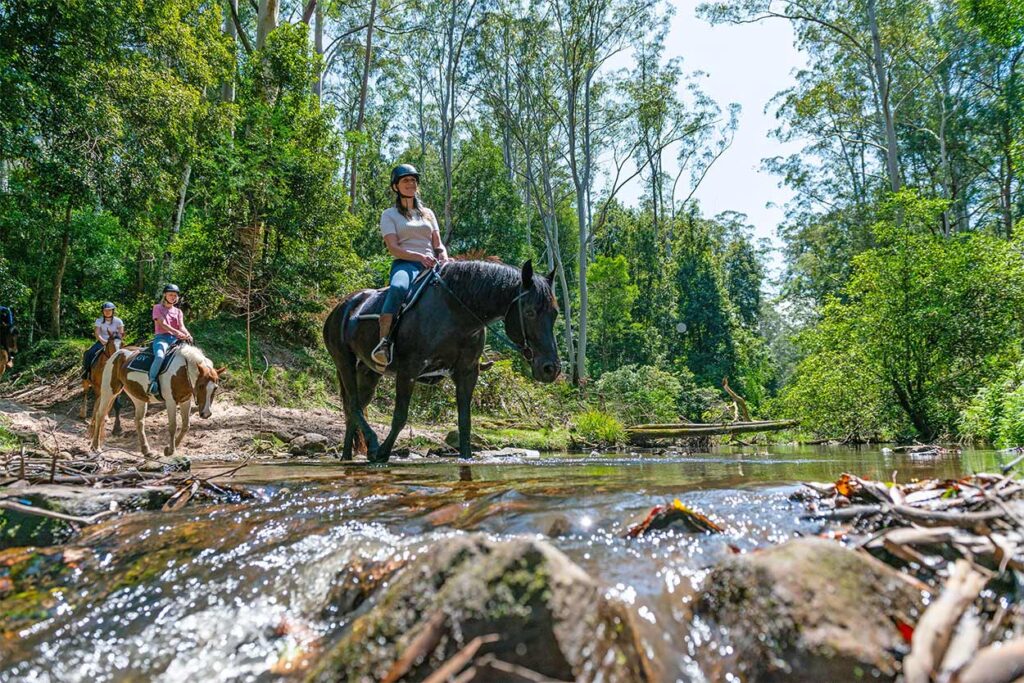 Glenworth Valley opened its doors as a small horse riding centre to bring the magic of riding to the Sydney & Central Coast area in 1969.
Word travelled quickly of the incredible experience and spectacular trails, which over the years has attracted the likes of David Beckham, Kanye West and Bill Gates.
Take the reins, immerse yourself in this timeless Australian adventure and discover why Glenworth Valley's horse riding tour is the regions favourite wilderness experience.
Ages: 7 years +
Weight limit: 100kg
Experience: First timer to advanced riders
Type: Guided. Free-range riding also available for very experienced riders
Price: From $120pp. Book today and save with off-peak pricing.
Includes: Horse, experienced guide, instruction
Extras: Helmets are compulsory for all riders. Helmets can be hired for an additional $7 fee
Available: Daily. Walk-ups accepted. However, many tours sell-out in advance and pre-booking is recommended.
Check in: 30 minutes prior
Start time: 10am & 2pm (Mon – Fri). 9am, 11am & 2pm (Sat, Sun, Public Holidays & School Holidays)
Duration: 2 hour experience – includes briefing. Note: 1.5 hours 11am time slot Mon-Fri during school holidays. Limited 4 & 6 hour rides and free-range riding available – please call to book.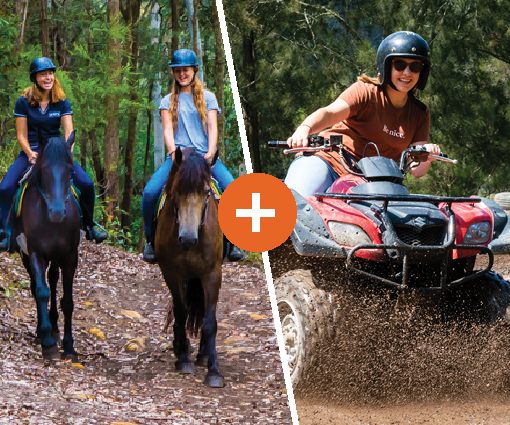 horse riding & quad biking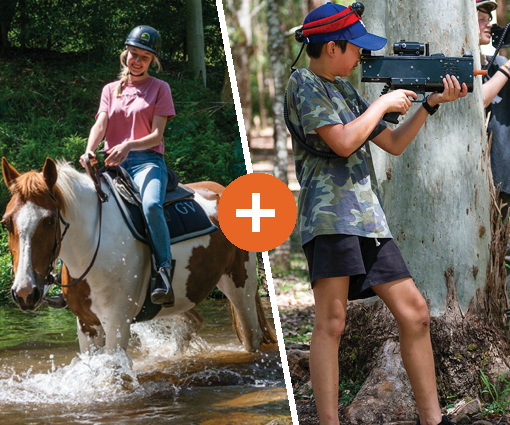 horse riding & laser skirmish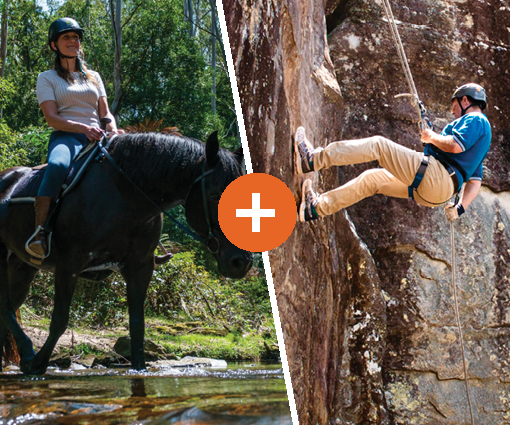 the perfect group day out
corporate events & parties
Nothing brings together friends and co-workers quite like a refreshing day out in nature.
Relax as you take to Glenworth Valley's trails on horseback, discovering picturesque views, fresh air and the gentle rhythm of your horse. Plus with catering formal or casual as your prefer, a spectacular events centre and luxury accommodation, you'll wind down into an afternoon or evening in complete comfort.
Get in touch to arrange your dream event today.
where can I ride a horse in sydney?
Horse riding is permissible only in key areas, with most wilderness areas and national parks having strict bans on horse access. Although horse riding is best enjoyed in nature, there are only a handful of locations where a true trail riding experience can be discovered.
With over 30km of wilderness routes and guided tours from professional riders, it's no wonder Glenworth Valley is the region's most popular horse riding experience.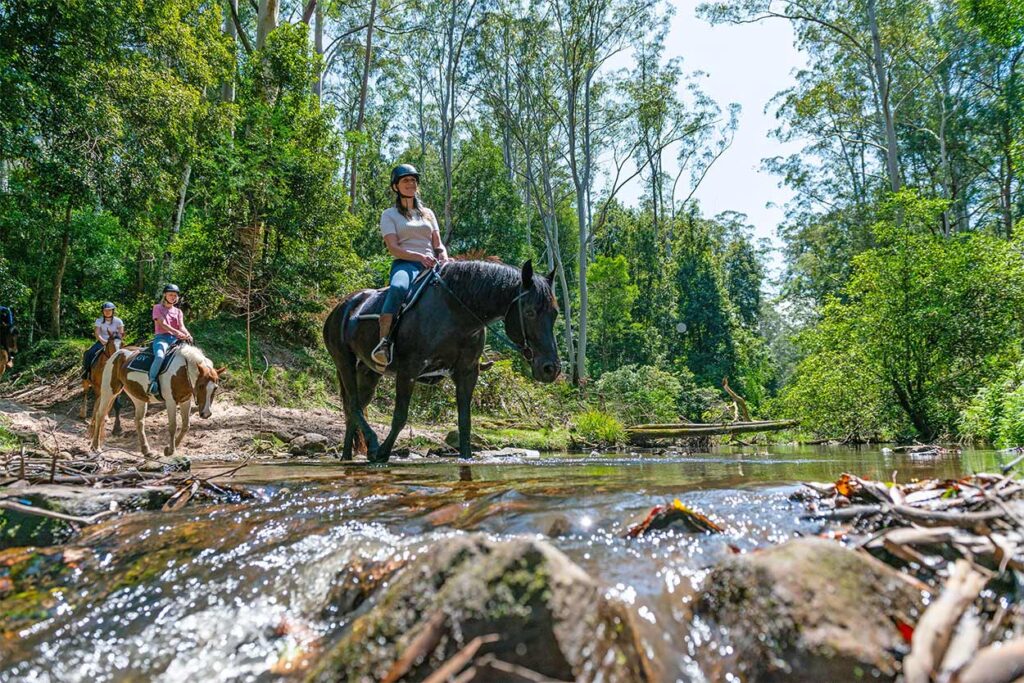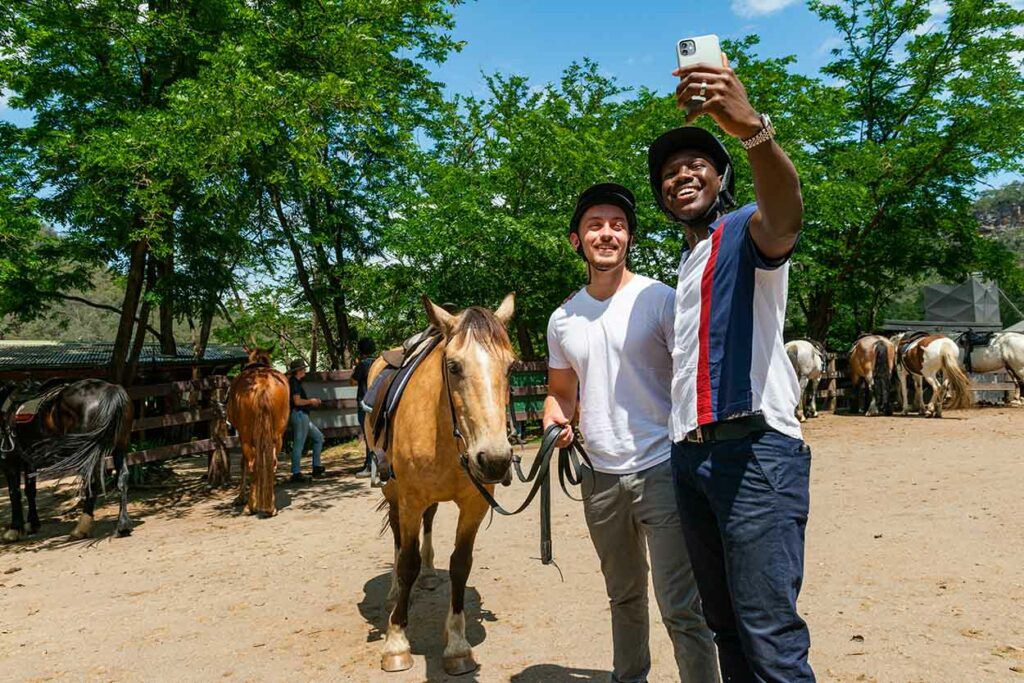 If the thought of horse riding is making you nervous, don't worry – it's perfectly natural and something that professional guides are trained to help with.
Learning at the hands of instructors takes all the nerves out of your first time. Sit back and relax with friendly tips guiding your technique, letting you tune in to the magic of riding with a unique connection to your horse.
A trail ride with Glenworth Valley's friendly guides will have you wondering what was ever holding you back.
what to wear when horse riding
Long pants to cover your legs makes horse riding all the more comfortable – jeans or jodhpurs are perfect. Covered shoes likes boots or sneakers are also helpful. If you're riding through Australia's beautiful Summer sun, a light, long sleeve shirt can also prevent sunburn. 
Boots and helmets are both available when riding at Glenworth Valley to give you the true horse riding experience.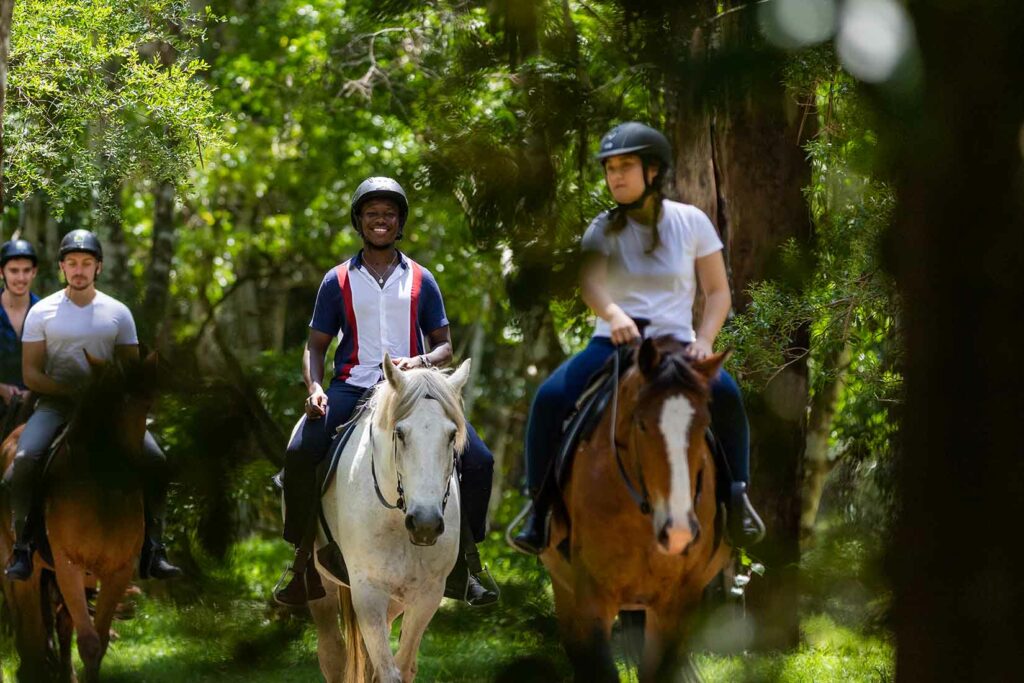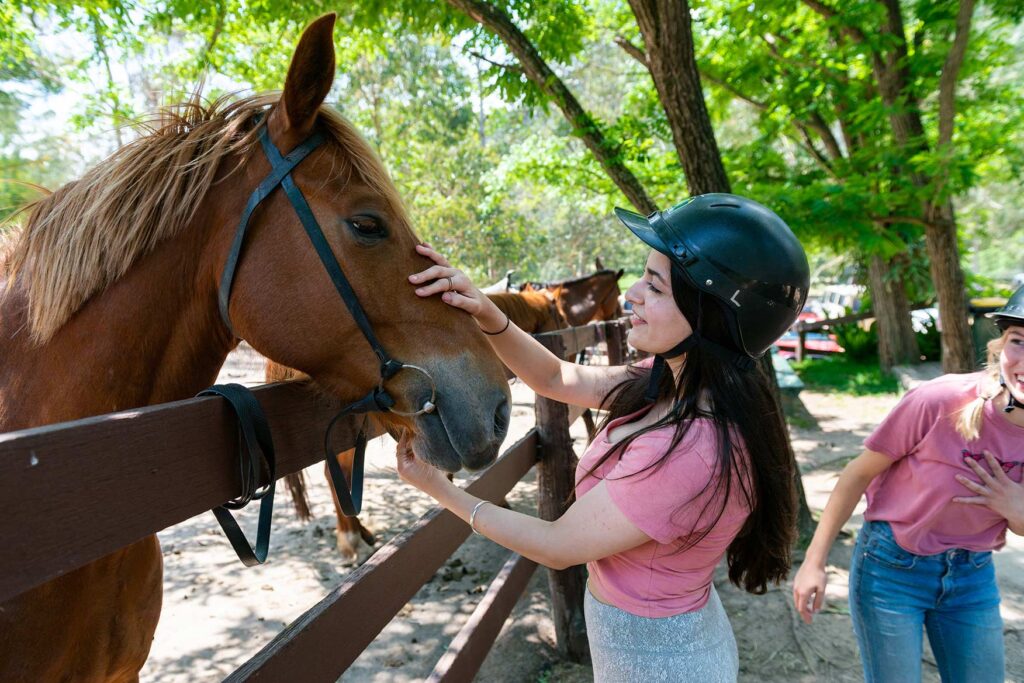 where can I learn to ride a horse?
When looking for horse riding schools or instructors, it's important to look for accreditation by the nation horse riding association – guaranteeing professional advice, safety and awesome experiences.
Accredited since 1970, Glenworth Valley holds the highest standards of professionalism in its horse riding tours and lessons and has helped thousands of keen riders.